Yesterday I went out back of my house and picked a mess of blackberries. I will be doing this for the next several days and if I am lucky, maybe the next several weeks I will be picking big juicy berries. Here's an article that I wrote several years ago about picking blackberries. Have you had a similar experience?
Easy Blackberry Cobbler from Fresh Picked Blackberries
Making fresh blackberry cobbler is when made with freshly picked berries to topped with a dish with ice cream or whipped topping. I enjoy making blackberry cobbler so much that it has become an annual late-summer ritual at our house.
On the day that I want to make a fresh blackberry cobbler, I go out in the morning. Blackberries ripen during the hottest part of the MORE
Growing Blackberries as a Medicinal Herb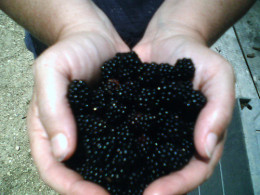 From the Rubus genus in the Rosaceae family, blackberries are low in calories (just 62 calories per cup), provides 50% of the minimum daily requirement of the vitamin C, and eight grams of dietary fiber along with traces of magnesium, calcium and iron. Not only do blackberries taste good and are good for you, but you can also use them medicinally to treat common maladies.MORE
Blackberry Growing Video
Personally, I have never wanted to grow my own blackberries. I much prefer to go out into the woods to get my blackberries. However, blackberries can easily be grown around your home. Thornless blackberries are easy to grow and since they are thornless, easy to pick as well. The only drawback to thornless blackberries is that you have to wait a while longer to get them because they are a late season berry.
Donna Brown is pastor at Faith in God Church  1 1/2 miles south of Brandsville, Missouri on Hwy 63. Sunday services are at 10 am and Wednesday night Bible Study at 6:30 pm.   As Author Cygnet Brown, she  has  published a nonfiction book: Simply Vegetable Gardening: Simple Organic Gardening Tips for the Beginning Gardener
She is also the author of historical fiction series The Locket Saga. which includes When God Turned His Head and Soldiers Don't Cry, the Locket Saga Continues, and, A Coward's Solace, Book III of the Locket Saga. The next book Book IV of the Locket Saga: Sailing Under the Black Flag will be out in the near future.
Her most recent publication were two booklets Help From Kelp and Using Diatomaceous Earth Around the House and Yard. Available in paperback
.For more information about Cygnet Brown and her books, check out her website at http://www.cygnetbrow.com .